TRUE HIGH END CUSTOM AQUARIUMS

These are not your everyday aquariums, and we do not build novelty aquariums.
1200 Gallon With Integrated Working Fireplace, 8 feet water height.
Below a 60" Water Column 22.5' Long 2000 Gallons
See A Video of this aquarium above
More Custom Aquariums
450 CYLINDER 429 Gallon Curved Front 600 Gallon Wave Front 700 Gallon Curved Front Reef
Very Tall Cylinders Very Tall Rectangles See This at SeaWorld (Video) or YouTube Limitless Finishes
SeaVisions can make at our factory, cylinder aquariums up to 78" in diameter and up to 72" of water height yielding 1350 Gallons.
Or we can provide seamless cylinders up to 96" in diameter and 240" tall yielding 7420 Gallons.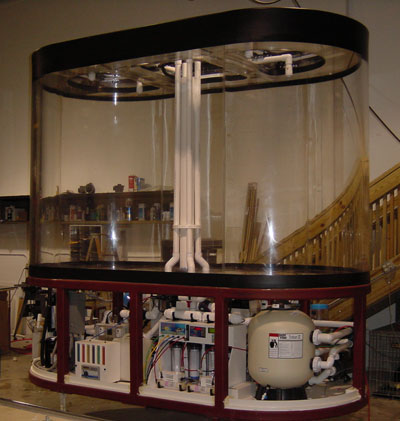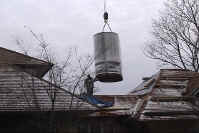 1700 Gallon Double Bull Nose, See Construction From Start To Installation

Established since 1981, SeaVisions has made a lasting impression in aquarium art and is unquestionably the leader of technological advances in aquarium manufacturing, filtration, and remote monitoring. Only the finest aquariums in the world bear the SeaVisions name. Our impeccable reputation, coupled with our patented filtration product line, unmatched aquarium environments, whether live reef or simulated reef, extensive knowledge and supply of exotic fish and corals is what has elevated SeaVisions to become the leader of high end custom aquarium manufacturing and distribution. SeaVisions leads by example just look at our photo gallery, countless successful aquarium system installations over the past 24 years. No other company even comes close just look for your self.

SeaVisions aquariums are custom-designed to capture and reflect the personality and style of both the client, as well as the setting. Following initial consultation, the design undergoes "System Finite Analysis" to insure precise structural requirements. From CAD drawings, CNC machines allow the material to be cut to exact specification while walk-in ovens are used to bend and mold panels to any shape imaginable. Exotic finishes are then applied for even the most scrupulous of clients. Whether a live reef is desired or one our custom made life like replicas, SeaVisions offers unprecedented quality and workmanship.

SeaVisions holds 10 U.S. Patents assuring unparalleled innovation both above and below the surface. Each SeaVisions aquarium is designed as a complete turnkey system providing the lowest maintenance requirements of any other aquarium system in the industry.

Make sure your investment in aquarium art is in a system designed by the "innovator" in the industry - SeaVisions.

SeaVisions does not make cookie cuter, or novelty aquariums, and we do not normally sell the aquarium tank only. However if the aquarium tank is of unusual size or shape please send us a drawing and we will quote.

Design Proposal Request

(DPR)

SEAVISIONS OF SOUTH FLORIDA, INC. (SVSF) receives hundreds of requests annually for proposals as regards to manufacture, installation, and maintenance of high end custom aquariums. Because of the nature of SeaVisions of South Florida's custom designs, each proposal is both unique and specific to the particular application. Each proposal requires an expenditure of between 2 and 8 hours depending on the specifics and substantial follow-up time with the prospective customer in detailing the proposal and the specifications being requested.

Effective April 1, 1999, a proposal fee of $275.00 will be required for design proposals. This fee is intended to off-set the costs of labor, design configuration, and specific customization needs of our clients. This fee will be credited in full towards any aquarium purchase utilizing this design proposal built by SeaVisions. The charge is payable upon submission of the proposal request.

When submitting a DPR to SVSF, please be as specific as possible in both the material you desire used in conjunction with the aquarium as well as size, design requirements, plumbing and electrical access, lighting requirements and, if known, the nature of the fish species intended to occupy the aquarium. By knowing your intentions and desires, we can assure customer satisfaction for the life of the aquarium and its supporting equipment.

Attached is the specification sheet to be filled out in preparation for the SVSF proposal.

If requesting CAD drawings for your architect or engineer, please e-mail us with the name of the aquarium in our photo gallery or phone us for more information.
Aquarium Request Form Part 2
If you should decide to purchase the aquarium this fee is credited to your account
Step 2
I have completed the consultation stage with an authorized SeaVisions agent and I am ready to proceed with the Design Proposal fee of $275.00.

Design Proposal Request $275.00

As Seen in Florida Design Continuously
Telephone 954-252-5341 Fax 954-252-5342
Postal address 13810 East Palomino Dr. Sunshine Ranches Fl, 33330
Maps To Our Location From Anywhere
Electronic mail Information


Sales: Sales@SeaVisions.com


Send mail to Webmaster@SeaVisions.com with questions or comments about this web site.
Copyright © 1997 SeaVisions Of South Florida Corporation
SeaVisions uses digital imaging to track copyright infringement.
Last modified: March 11, 2017
Terms and Conditions Privacy Policy Statement Encryption Terms of Use Feed Back