The Original and The First Containment System For Opening Mail

Patent Pending
SeaVisions has been making water and air tight enclosures for 21 years. So This device was a natural for us.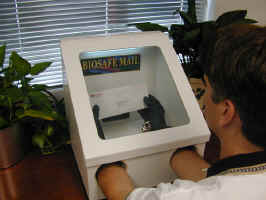 BioSafe Mail 1 The Original16" X 16" X 16" Mail Opening Containment Box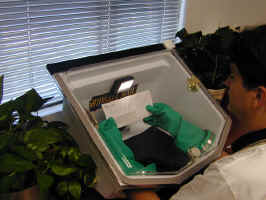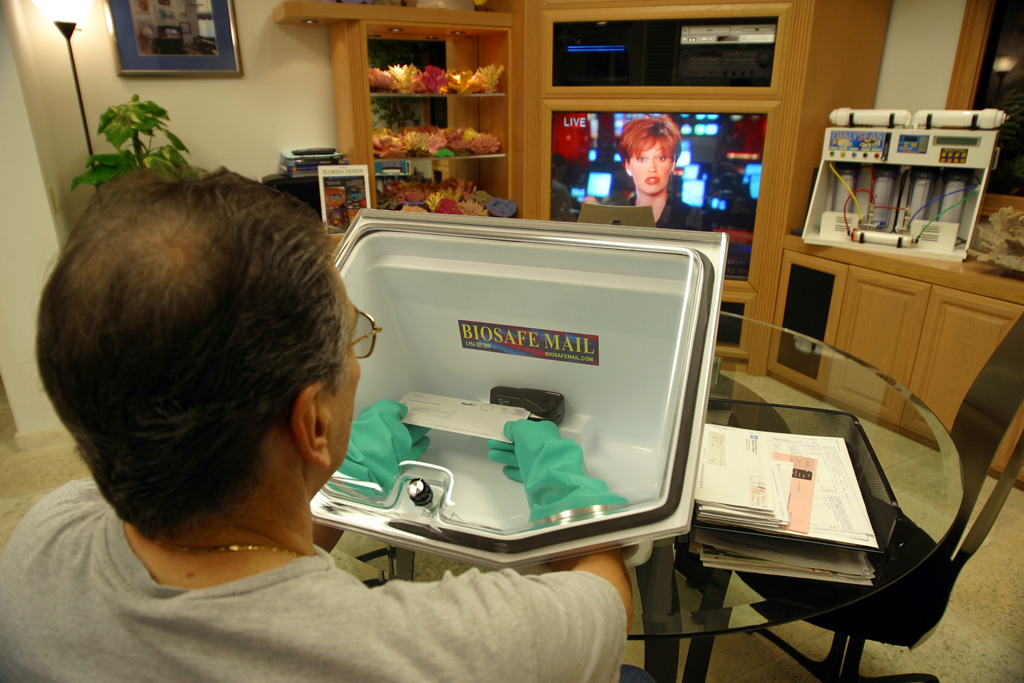 Professional Size
BioSafe Mail 2 Bigger, Better, Seamless Construction, More Ergonomic 24" X 17" X 20"
News Coverage Of The First System ON The Market High Quality Video
High Bandwidth and Real Media Player Required Down Load RealPlayer 8 Basic you can get this free
We at SeaVisions, the manufacturers of BioSafe Mail, are American citizens who were horrified by the events of September 11, 2001, and those on-going events affecting our lives on a daily basis. Of an immediate and particular concern to us all, is the on-going devastation that the spread of biological and chemical pathogens are having on people and the permanent destructive effect that terrorism is having on our work places. Many tenants and real estate owners may face financial difficulties dealing with the issue of contaminated mail. Moreover, the psychological effects on the American public are even more crippling and devastating. Currently, our government is faced with the lofty challenge of both trying to eradicate the problem and avoiding mass hysteria. Unfortunately, the greater the effort to eliminate the problem, the more unnecessarily alarmed people become. We at SeaVisions believe that our government is doing an excellent job and share the desire of all Americans to return to normalcy in our daily lives. As of this time October 18, 2001, only one man has lost his life to anthrax since 9-11-01 and all other cases are being treated successfully. Their is a minimal chance that anyone should be affected by these random acts. Consequently, we have developed BioSafe Mail to address an immediate need among those who may be targets or likely recipients of contaminated mail and do not believe the general public should be in fear.
If you are a high profile individual, or a business owner that needs to give their employees some peace of mind then consider the BioSafe Mail Containment Box.
Protect yourself, your family or your business from bacteriological agents, delivered in the mail.

Commercial grade for long life

Air tight surgical grade seal keeps contaminants in and you safe.

Table top model will shield you from hazardous microbiological organisms.

Easy opening hinged lid with key lock will contain hazardous microbiological organisms or chemicals eliminating the need for building or home evacuation.

Built in letter opener for quick and easy mail opening

Will hold over 100 envelopes and has a built in light.

Box weighs less than 6 lbs, lid is clear unbreakable polycarbonate. This is not a heavy, clumsy, steel box.

Biosafe Mail is a molded seamless part made from High Impact Plastic.

The price is approximately 1/10 the price of a laboratory model but the results are the same.
The day after BioSafe Mail
was aired on TV copycat imitations started to pop up, accept no substitute SeaVisions has developed the first unit and have brought this unit to market weeks before any other company even thought of it, and our US patent application date will prove this. Please do not risk your life with an imitation product, from companies that just formed recently for get rich quick ideas from this tragedy. Please check the news coverage links above and the dates they were aired that will show not only was BioSafeMail an idea not yet thought of anywhere but a product we already had on the market.
BIOSAFE2 23" X 17" X 20" Mail Containment Box $549.00 Not Available
BIOSAFE2 REPLACEMENT GLOVES BSMIIR6 $15.00 In Stock
Instructions for use: Biosafe Mail Click Here
More sizes and information will appear on this site daily.
Custom sizes available
Print Flier Adobe
Important Anthrax Information:
Cutaneous anthrax is the most common naturally occurring, type of infection (>95%) and usually occurs after skin contact with contaminated meat, wool, hides, or leather from infected animals. The incubation period ranges from 1-12 days. The skin infection begins as a small papule, progresses to a vesicle in 1-2 days followed by a necrotic ulcer. The lesion is usually painless, but patients also may have fever, malaise, headache, and regional lymphadenopathy. Most (about 95%) anthrax infections occur when the bacterium enters a cut or abrasion on the skin. Skin infection begins as a raised bump that resembles a spider bite, but (within 1-2 days) it develops into a vesicle and then a painless ulcer, usually 1-3 cm in diameter, with a characteristic black necrotic (dying) area in the center. Lymph glands in the adjacent area may swell. About 20% of untreated cases of cutaneous anthrax will result in death. Deaths are rare if patients are given appropriate antimicrobial therapy.

Inhalational anthrax is the most lethal form of anthrax and results from inhaling 8,000-40,000 spores of the bacteria. The incubation period of inhalational anthrax among humans is unclear, but it is reported to range from 1 to 7 days, possibly ranging up to 60 days. Initial symptoms may resemble those of a common cold, such as sore throat, mild fever, muscle aches, and malaise. After several days, the symptoms may progress to severe breathing problems and shock, with meningitis frequently developing. Inhalation anthrax is often fatal.
Link To
CDC Health Advisory
Telephone 954-385-2899 Fax 954-385-2898
Postal address 15951 S.W. 41st Street Suite 600 Fort Lauderdale, Fl 33331
Maps To Our Location From Anywhere
Electronic mail Information

General Information: Information@SeaVisions.com
Sales: Sales@SeaVisions.com
Customer Support: Support@SeaVisions.com
Webmaster: WebMaster@SeaVisions.com
Send mail to Webmaster@SeaVisions.com with questions or comments about this web site.
Copyright © 1997 SeaVisions Of South Florida Corporation
Last modified: November 10, 2009