.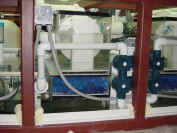 This is 1 of 2 drum filters of a 1700 gallon aquarium pictured in photo gallery 15.
For the latest aquarium innovation SeaVisions has developed the automatic self cleaning mechanical filter.
All waste particles are removed before they have a chance to break down in your system. Think about that.

Water restriction through the system is minimal , flow thru the system is much higher than all other mechanical methods.

No more washing filter pads or cartridge filters.

Removes particles less than 20 microns

Custom sizes for large aquariums or can be ordered with a custom aquarium.
If you have a few minutes to wait click on this image to see a video file of a drum filter. This drum filter is operating at 50gpm.
See a Newer version of this system click here C.A.D.S